Amy Bishop Update: Another Covert Operation?
Okay, now this is what I think:

"This is another covert operation, folks -- complete with a patsy, a cover story, and a death toll."
Source: http://z6.invisionfree.com/Reality_Shack/index.php?showtopic=14&st=90
ORIGINAL POST
There is still question in my mind whether or not Dr Amy Bishop, a neurobiologist from Harvard University, was/is under some sort of mind control.
Note: "
A considerable amount of credible circumstantial evidence suggests that Theordore Kaczynski, also known as the Unabomber, participated in CIA-sponsored MKUltra experiments conducted at Harvard University from the fall of 1959 through the spring of 1962 During World War II, Henry Murray, the lead researcher in the Harvard experiments, served with the Office of Strategic Services (OSS), which was a forerunner of the CIA. Murray applied for a grant funded by the United States Navy, and his Harvard stress experiments strongly resembled those run by the OSS. Beginning at the age of sixteen, Kaczynski participated along with twenty-one other undergraduate students in the Harvard experiments, which have been described as 'disturbing' and 'ethically indefensible'." SOURCE
Harvard and the Making of the Unabomber by Alston Chase
More posts on Amy Bishop:
http://enjoyingthejourney.blogspot.com/search?q=amy+bishop
Amy Bishop won't be tried in brother's 1986 Mass. death
September 28, 2012|John R. Ellement and Patricia Wen
The decision by the Norfolk district attorney not to prosecute Amy Bishop in the death of her teenage brother — a case that predates by two decades the Alabama shooting spree that put her in prison for life — brought a reaction not commonly expected from the attorney of the accused.
"Amy Bishop needs her day in court," her public defender, Larry Tipton, said Friday. "Most people would think the dismissing of a murder case is a victory. But when you know you didn't do something, there is a solid reason to say I want to go through with whatever it takes to get at the truth."
Tipton said Bishop's parents, Judith and Sam Bishop, agreed that they wanted a trial to dispel public perception that their only daughter, then 21, ­intentionally killed their only son, then 18, in the family's Braintree home in 1986. The lawyer said the parents were willing to endure what would surely have been an agonizing trial.
"They were a loving and caring brother and sister," he said.
The couple have long maintained that the shooting of Seth Bishop was an accident that happened when their daughter got hold of her father's shotgun.
Tipton said he believes that Bishop's shooting of her brother forever changed her, causing trauma that played a role in the Alabama crime. On Feb. 12, 2010, the Harvard-trained biologist killed three colleagues and injured three more during a meeting at the University of ­Alabama campus in Huntsville, apparently because she was ­denied tenure.
After Bishop opened fire on her colleagues, law enforcement officials began to review Bishop's past, and discovered the old, largely forgotten case of when Bishop shot her brother with her father's gun, declared an accident at the time. A subsequent, closed-door inquest conducted after the Alabama slayings resulted in the first-
degree murder indictment of Bishop in the death of her brother.
"A family tragedy has been turned into a murder case," ­Tipton said.
Norfolk District Attorney Michael W. Morrissey initially emphasized largely pragmatic considerations when announcing Friday that he would not seek to have Bishop returned from Alabama to face murder charges. Bishop, now 47 and a married mother of four, was sentenced Monday to life in prison in Alabama after pleading guilty to shooting her university colleagues.
"The penalty we would seek for a first-degree murder conviction is already in place," ­Morrissey said.
In a telephone interview, he acknowledged that other factors played a role, including the risk of escape anytime authorities move prisoners from one state to another and the "very long path and difficult road" from indictment to conviction.
Morrissey said a conviction on first-degree murder was far from guaranteed, particularly because the case drew on memories from so long ago and because one of the key witnesses, John Polio, who was Braintree police chief when the brother was shot, is dead.
The lack of a trial also spares law enforcement what would probably have been an unflattering portrait of the state's ­police and prosecutorial work in the case.
On Dec. 6, 1986, Bishop told police she took her father's shotgun, loaded it, fired a shot into a bedroom wall, then went downstairs, and accidentally shot her brother in the chest. She said she fired the gun while trying to unload it. She later fled the house, tried to commandeer a car at gunpoint from a Braintree car dealership, and then confronted police with the gun. Police eventually persuaded her to drop the weapon, accord­ing to police reports.
Bishop was brought to the police station to face possible charges of murder and assault with a dangerous weapon, but was released within 20 minutes, without charges, in the company of her mother, who has insisted the case was an ­accident.
A subsequent inquiry found that Braintree and State Police did not share critical information about the case. Prosecutors said they received incomplete records.
On June 16, 2010, a grand jury indicted Bishop in the death of her brother, who was a student at Northeastern University.
Bryan Stevens of Quincy, a lawyer representing the parents, said Friday that the couple declined to comment on ­Morrissey's decision, though they have long maintained that their son's death was an accident. "Despite all the finger-pointing among local police, State Police, and the district ­attorney's office, there is no evidence that Seth's death was not an accident," the parents said in a statement in June 2010 after their daughter was indicted.
As some Braintree and state officials expressed relief that this complex, painful case had drawn to a close, Morrissey acknowledged that the investigation of Seth's death was not textbook law enforcement work. "Some mistakes were made and time has compounded those mistakes," he said.
When asked if he was surprised that Bishop's defense lawyer is upset that his client cannot face a trial, he replied, "Nothing with this job surprises me."
Patricia Wen can be reached at
wen@globe.com
, and John R. Ellement can be reached at ­
ellement@globe.com
SOURCE:
http://articles.boston.com/2012-09-28/metro/34139894_1_john-polio-seth-bishop-first-degree-murder
--- end ---
A Harvard-educated former biology professor convicted of killing three people and injuring three others during a 2010 faculty meeting at the University of Alabama in Huntsville (UAH) will not face an additional murder charge in Massachusetts for the 1986 shooting death of her brother.
An Alabama court recently sentenced Bishop, 47, to life in prison without parole.
On September 10, jurors deliberated for just 20 minutes before returning a conviction, according to the Los Angeles Times. Bishop had already pleaded guilty to the charges against her, but under Alabama law defendants must stand trial for capital charges.
Bishop's guilty plea in Alabama spared her the death penalty.
In a 2010, the Boston Herald reported
that an anonymous family source called Bishop "a far-left political extremist who was 'obsessed' with President Obama to the point of being off-putting."
According to the Associated Press, police investigator Charlie Gray testified that Bishop had denied killing anyone. In court, she shook her head whenever the judge or prosecutors characterized the shootings as intentional.
Gray also testified that police determined that anger was Bishop's motive. She had recently been denied tenure and, thus, her career at UAH was likely over.
During courtroom proceedings, Bishop evaded the gaze of family members of the victims and two people who survived her murder binge, the Huntsville Times reported.
Bishop showed no emotion when the jury announced its verdict.
Norfolk County Massachusetts District Attorney Michael Morrissey indicated his plans to withdraw the Massachusetts indictment issued against Bishop two years ago. He said that the capital murder conviction in Alabama assures that she will remain in prison until she dies.
"The penalty we would seek for a first degree murder conviction is already in place," Morrissey told
The Boston Globe.
Morrissey added that his office could reopen the case should Bishop escape punishment in the future. Such an event is unlikely, though, because Bishop waived her right to appeal by pleading guilty.
There is no statute of limitation on first or second degree murder in Massachusetts, where the death penalty was abolished in 1984.
After she was arrested for the UAH shooting, Massachusetts authorities reopened the investigation of brother's death. Bishop shot her brother to death at the Bishop family'' Braintree, Mass home in 1986. At the time, he incident that was ruled an accident.
The Norfolk County District Attorney eventually indicted Bishop for her brother's murder.
Bishop attempted suicide in June 2010 while she was detained in Alabama a few days after the Norfolk County indictment.
Bishop was also suspected in a mail bombing attempt against Dr. Paul Rosenberg in 1993, according to the Boston Herald. Rosenberg, a Harvard Medical School professor and a physician, supervised Bishop at a neurobiology lab at Boston Children's Hospital.
Read more:
http://dailycaller.com/2012/10/01/obama-obsessed-ex-professor-serving-life-for-murder-avoids-charges-for-shooting-her-brother/#ixzz28AgSNdFo
--- end ---
Scientists Warn of Ethical Battle Concerning Military Mind Control
Advances in neuroscience are closer than ever to becoming a reality, but scientists are warning the military - along with their peers - that with great power comes great responsibility
http://www.usnews.com/news/articles/2012/03/20/scientists-warn-of-ethical-battle-concerning-military-mind-control
By Jason Koebler
March 20, 2012 RSS Feed Print
A future of brain-controlled tanks, automated attack drones and mind-reading interrogation techniques may arrive sooner than later, but advances in neuroscience that will usher in a new era of combat come with tough ethical implications for both the military and scientists responsible for the technology, according to one of the country's leading bioethicists.
"Everybody agrees that conflict will be changed as new technologies are coming on," says Jonathan Moreno, author of Mind Wars: Brain Science and the Military in the 21st Century. "But nobody knows where that technology is going."
Moreno warns in an essay published in the science journal PLoS Biology Tuesday that the military's interest in neuroscience advancements "generates a tension in its relationship with science."
"The goals of national security and the goals of science may conflict. The latter employs rigorous standards of validation in the expansion of knowledge, while the former depends on the most promising deployable solutions for the defense of the nation," he writes.
Much of neuroscience focuses on returning function to people with traumatic brain injuries, he says. Just as Albert Einstein didn't know his special theory of relativity could one day be used to create a nuclear weapon, neuroscience research intended to heal could soon be used to harm.
"Neuroscientists may not consider how their work contributes to warfare," he adds.
Moreno says there is a fine line between using neuroscience devices to allow an injured person to regain baseline functions and enhancing someone's body to perform better than their natural body ever could.
"Where one draws that line is not obvious, and how one decides to cross that line is not easy. People will say 'Why would we want to deny warfighters these advantages?'" he says.
Moreno isn't the only one thinking about this. The Brookings Institution's Peter Singer writes in his book, Wired for War: The Robotics Revolution and Conflict in the 21st Century, that "'the Pentagon's real-world record with things like the aboveground testing of atomic bombs, Agent Orange, and Gulf War syndrome certainly doesn't inspire the greatest confidence among the first generation of soldiers involved [in brain enhancement research.]"
The military, scientists and ethicists are increasingly wondering how neuroscience technology changes the battlefield. The staggering possibilities are further along than many think. There is already development on automated drones that are programmed to make their own decisions about who to kill within the rules of war. Other ideas that are closer-than-you-think to becoming a military reality: Tanks controlled from half a world away, memory erasures that could prevent PTSD, and "brain fingerprinting" that could be used to extract secrets from enemies. Moreno foretold some of these developments when he first published Mind Wars in 2006, but not without trepidation.
"I was afraid I'd be dismissed as a paranoid schizophrenic when I first published the book," he says. But then a funny thing happened—the Department of Defense and other military groups began holding panels on neurotechnology to determine how and when it should be used. I was surprised how quickly the policy questions moved forward. Questions like: 'Can we use autonomous attack drones?' 'Must there be a human being in the vehicle?' 'How much of a payload can it have?'. There are real questions coming up in the international legal community."
All of those questions will have to be answered sooner than later, Moreno says, along with a host of others. Should soldiers have the right to refuse "experimental" brain implants? Will the military want to use some of this technology before science deems it safe?
"There's a tremendous tension about this," he says. "There's a great feeling of responsibility that we push this stuff out so we're ahead of our adversaries."
--- end ---
COMMENTS
:
Many mind control and harassment techniques have been applied to innocent civilians all around the world. These technologies are capable of creating artificial sicknesses such as migraines, gastritis and many other ailments that can mimic real diseases. They have been done for more than two decade or so. This is not a new thing.
Remote mind reading of individual targets and broadcasting it back to the public has also been done for a long time. The targeted individuals ( Ti's) have been facing all types of discrimination by the public purely for just thinking in a certain way. They have been unnecessarily branded as paranoid. Many livelihoods have been destroyed.
The most likely culprits who are behind these technologies are defense contractors and rogue military groups within the military. Just like the Nazi scientist who thought they were invincible, hope someday they will be brought forward and prosecuted. I hope that I would be able to see justice against these inhumans in my lifetime.
raj 6:44PM October 01, 2012
---
I am pretty certain that surgery isn't necessary at this point and that the military is already using this, only for the international interest.
Kim Dyer of AZ 6:30PM August 05, 2012
--- end ---
Neuroscience could mean soldiers controlling weapons with minds
Neuroscience breakthroughs could be harnessed by military and law enforcers, says Royal Society report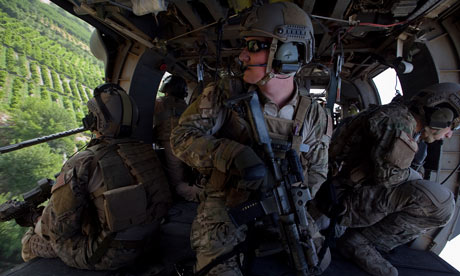 Soldiers could have their minds plugged directly into weapons systems, undergo brain scans during recruitment and take courses of neural stimulation to boost their learning, if the armed forces embrace the latest developments in neuroscience
to hone the performance of their troops.
These scenarios are described in a report into the military
and law enforcement uses of neuroscience, published on Tuesday, which also highlights a raft of legal and ethical concerns that innovations in the field may bring.
The report by the Royal Society
, the UK's national academy of science, says that while the rapid advance of neuroscience is expected to benefit society and improve treatments for brain disease and mental illness, it also has substantial security applications that should be carefully analysed.
The report's authors also anticipate new designer drugs that boost performance, make captives more talkative and make enemy troops fall asleep.
"Neuroscience will have more of an impact in the future," said Rod Flower, chair of the report's working group.
"People can see a lot of possibilities, but so far very few have made their way through to actual use.
"All leaps forward start out this way. You have a groundswell of ideas and suddenly you get a step change."
The authors argue that while hostile uses of neuroscience and related technologies are ever more likely, scientists remain almost oblivious to the dual uses of their research.
The report calls for a fresh effort to educate neuroscientists about such uses of the work early in their careers.
Some techniques used widely in neuroscience are on the brink of being adopted by the military to improve the training of soldiers, pilots and other personnel.
A growing body of research suggests that passing weak electrical signals through the skull, using transcranial direct current stimulation (tDCS), can improve people's performance in some tasks.
One study cited by the report
described how US neuroscientists employed tDCS to improve people's ability to spot roadside bombs, snipers and other hidden threats in a virtual reality training programme used by US troops bound for the Middle East.
"Those who had tDCS learned to spot the targets much quicker," said Vince Clark, a cognitive neuroscientist and lead author on the study at the University of New Mexico. "Their accuracy increased twice as fast as those who had minimal brain stimulation. I was shocked that the effect was so large."
Clark, whose wider research on tDCS could lead to radical therapies for those with dementia, psychiatric disorders and learning difficulties, admits to a tension in knowing that neuroscience will be used by the military.
"As a scientist I dislike that someone might be hurt by my work. I want to reduce suffering, to make the world a better place, but there are people in the world with different intentions, and I don't know how to deal with that.
"If I stop my work, the people who might be helped won't be helped. Almost any technology has a defence application."
Research with tDCS is in its infancy, but work so far suggests it might help people by boosting their attention and memory. According to the
Royal Society
report, when used with brain imaging systems, tDCS "may prove to be the much sought-after tool to enhance learning in a military context".
One of the report's most striking scenarios involves the use of devices called brain-machine interfaces (BMIs) to connect people's brains directly to military technology, including drones and other weapons systems.
The work builds on research that has enabled people to control cursors and artificial limbs through BMIs that read their brain signals.
"Since the human brain can process images, such as targets, much faster than the subject is consciously aware of, a neurally interfaced weapons system could provide significant advantages over other system control methods in terms of speed and accuracy," the report states.
The authors go on to stress the ethical and legal concerns that surround the use of BMIs by the military. Flower, a professor of pharmacology at the William Harvey Research Institute at Barts and the London hospital, said: "If you are controlling a drone and you shoot the wrong target or bomb a wedding party, who is responsible for that action? Is it you or the BMI?
"There's a blurring of the line between individual responsibility and the functioning of the machine. Where do you stop and the machine begin?"
Another tool expected to enter military use is the EEG (electroencephalogram), which uses a hairnet of electrodes to record brainwaves through the skull. Used with a system called "neurofeedback", people can learn to control their brainwaves and improve their skills.
According to the report, the technique has been shown to improve training in golfers and archers.
The
US military
research organisation,
Darpa
, has already used EEG to help spot targets in satellite images that were missed by the person screening them. The EEG traces revealed that the brain sometimes noticed targets but failed to make them conscious thoughts. Staff used the EEG traces to select a group of images for closer inspection and improved their target detection threefold, the report notes.
Work on brain connectivity has already raised the prospect of using scans to select fast learners during recruitment drives.
Research last year
by Scott Grafton at the University of California, Santa Barbara, drew on functional magnetic resonance imaging (fMRI) scans to measure the flexibility of brain networks. They found that a person's flexibility helped predict how quickly they would learn a new task.
Other studies
suggest neuroscience could help distinguish risk-takers from more conservative decision-makers, and so help with assessments of whether they are better suited to peacekeeping missions or special forces, the report states.
"Informal assessment occurs routinely throughout the military community. The issue is whether adopting more formal techniques based on the results of research in neuroeconomics, neuropsychology and other neuroscience disciplines confers an advantage in decision-making."
--- end ---
OCTOBER 3, 2012 UPDATE
Found the following comment VERY interesting:
starviego | October 1, 2012 at 9:15 pm
The Unanswered Questions of this Case:
–0f the 12 people in the conference room at the time of the shooting, three are dead, two were seriously injured and might not remember much, which leaves seven witnesses. 0nly one of these, a Professor Moriarity, has been publicly interviewed and has identified Bishop as the shooter. Where are the other interviews of survivors, and why haven't three of the unharmed witnesses even been identified?
–Why did Amy Bishop repeatedly say "[b]It didn't happen. There's no way …. they are still alive[/b]" in the first interviews after her arrest? What did she mean by that?
–In the first hours after the shooting, the local newspapers website posted a photo of another person being led away in handcuffs from the scene. Who was this person, and why do commentators who did see this photo say it looked like a man wearing women's clothing? Why was he/she carrying 'shells' in her/his pockets? Where did they come from? What caliber were they? Did they smell like they had recently been fired? Were all the expended shells from the shooting recovered at the crime scene?
–Is there any of the ubiquitous video evidence that is everywhere nowadays that places her at the scene? None has been released.
–Was Gun Shot Residue evidence found on her hands? Were her fingerprints found on the weapon recovered? Did the recovered weapon smell like it had recently been fired? Can all the slugs and expended shell cases be traced back to the weapon allegedly used?
–What was the motive? They have implied that Amy Bishop was angry over being denied tenure, but officially speaking they did not posit any motive. What did Amy herself have to say?
–Since her arrest, Amy Bishop was never given the opportunity to tell her side of the story. Yet there are always two sides to any story. Why haven't we heard hers?
–Why does the only witness to testify publicly on what happened in that conference room continue to say that she heard the weapon 'click' after it jammed, when any person who's ever tried to clear a jam in a semi-automatic knows you can't move the trigger, much less make it go 'click?'
–After dropping her weapon and jacket into a bathroom, Bishop is alleged to have walked into a lab class and asked to borrow a cell phone from a colleague. Why is this person never identified, or ask if Bishop appeared nervous, excited, flushed, etc? Is it just coincidence that the person arrested carrying 'shells' was described as a lab student of Amy Bishop?
Source:
http://legalinsurrection.com/2012/09/harvard-educated-liberal-obamamaniac-killer-amy-bishop-sentenced-to-life-in-prison/