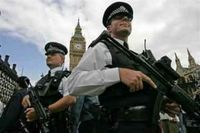 SMOKING GUN
Did you know that there were bombing 'exercises' by London Underground taking place at the same time as the real attack on 7/7/2005? The facts confirm that "a consultancy agency with government and police connections was running an exercise for an unnamed company that revolved around the London Underground being bombed at the exact same times and locations as happened in real life on the morning of July 7th.... This is precisely what happened on the morning of 9/11/2001. The CIA was conducting drills
of flying hijacked planes into the WTC and Pentagon at 8:30 in the morning. It is clear that at least five if not six training exercises were in operation in the days leading up to and on the morning of 9/11. This meant that NORAD radar screens showed as many as 22 hijacked airliners at the same time. NORAD had been briefed that this was part of the exercise drill and therefore normal reactive procedure was forestalled and delayed." (read more)



1 JOHN 2:15-23


Stop loving this evil world and all that it offers you, for when you love the world, you show that you do not have the love of the Father in you. For the world offers only the lust for physical pleasure, the lust for everything we see, and pride in our possessions. These are not from the Father. They are from this evil world. And this world is fading away, along with everything it craves. But if you do the will of God, you will live forever. Dear children, the last hour is here. You have heard that the Antichrist is coming, and already many such antichrists have appeared. From this we know that the end of the world has come. These people left our churches because they never really belonged with us; otherwise they would have stayed with us. When they left us, it proved that they do not belong with us. But you are not like that, for the Holy Spirit has come upon you,

and all of you know the truth. So I am writing to you not because you don't know the truth but because you know the difference between truth and falsehood. And who is the great liar? The one who says that Jesus is not the Christ. Such people are antichrists, for they have denied the Father and the Son. Anyone who denies the Son doesn't have the Father either. But anyone who confesses the Son has the Father also.