The NASA - NAZI Connection
Nov 17, 1945


Operation Paperclip - The Nazi Scientists of America - American Heritage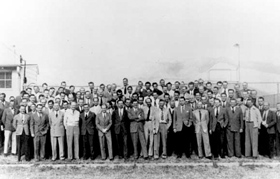 After the war, 118 German rocket scientists worked together at Fort Bliss, Texas.
(U.S. ARMY AVIATION AND MISSILE COMMAND)
"Intelligence and government officials faced a delicate moral quandary in 1945—whether it was worth it to give American homes to men who had invented weapons to kill American soldiers, men who in some cases subscribed to beliefs that hundreds of thousands Americans had died to eradicate. In the end they decided it was, if these men could help the United States defeat the Soviets."
—Christine Gibson is a former editor at American Heritage magazine.
Operation Paperclip

- The Nazi Scientists of America - Wikipedia

Source: http://www.thelivingmoon.com/47brotherthebig/Part_001.html

--- end ---
Below is an email reply I wrote this morning and decided to post it:
Yes, NASA is in on it. Have you read about
Operation Paperclip
? Nazi scientists etc were brought secretly to the USA and other places like Argentina and here they started NASA. (
more
)
was a Nazi brought to the United
States after the war to help build NASA's Rockets.

Was
NASA's chief rocket scientist
(and former Nazi SS officer)
Wernher Von Braun involved in faking the moon
landing in order to escape prosecution for his Nazi crimes? I believe yes and that we did not go to the moon. (more)

Project moonbean and other holographic technology exist today so what we see may not be real. For example, I don't think planes hit the towers nor the Pentagon on 9/11 - it was a combo of tv fakery, missils and some sort of DEW (Directed Energy Weapons). Watch September Clues on youtube to see more about that - here is where I posted them. Also drjudywoods.com has lots of interesting data on DEW.

And did you read the article this past week saying that Bush's team told over 935 lies about Iraq? They all lie to us. Here is the article I posted yesterday on that.

So who knows what you are seeing - a second sun/planet x/hologram or ???

All are distractions from the Truth about the Lord Jesus Christ Who died and shed His blood to take away our sin, Who rose from the grave after 3 days to give us eternal life, Who ascended to heaven, now sitting at the right hand of the Father and Who is coming back - the Blessed Hope - one day soon we pray.

And in the meantime, we trust and obey the Word of God, redeeming the time, watching, praying and looking up for our redemption draweth nigh - AMEN!



Even so, come, Lord Jesus!