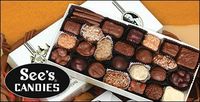 CALIFORNIA CANDY
My friend, Rogena, works at
See's Candies
so she brings home lots of goodies to share. I grew up enjoying this delicious chocolate which was founded in California in 1921. But as wonderful as it is, the Word of God is sweeter!
Psalm 19
says: "The law of the LORD is perfect, converting the soul: the testimony of the LORD is sure, making wise the simple. The statutes of the LORD are right, rejoicing the heart: the commandment of the LORD is pure, enlightening the eyes. The fear of the LORD is clean, enduring for ever: the judgments of the LORD are true and righteous altogether. More to be desired are they than gold, yea, than much fine gold: sweeter also than honey and the honeycomb."
DEUTSCH
KALIFORNISCHE SÜßIGKEITEN
Meine Freundin, Rogena, arbeitet beim
See Süßwarenladen
, so bringt sie viele Pralinen zum Teilen mit nach Hause. Ich bin aufgewachsen und habe diese vorzüglichen Pralinen genossen, die 1921 in Kalifornien begründet wurde. Aber so wunderbar sie ist, das Wort Gottes ist süßer!
Psalm 19
sagt: "Das Gesetz des HERRN ist vollkommen und erquickt die Seele; das Zeugnis des HERRN ist zuverlässig und macht den Einfältigen weise. Die Vorschriften des HERRN sind richtig und erfreuen das Herz; das Gebot des HERRN ist lauter und macht die Augen hell. Die Furcht des HERRN ist rein und besteht in Ewigkeit. Die Rechtsbestimmungen des HERRN sind Wahrheit , sie sind gerecht allesamt; sie, die köstlicher sind als Gold, ja viel gediegenes Gold, und süßer als Honig und Honigseim."