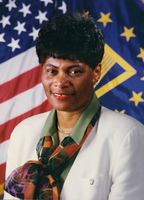 "I simply believe that we have callings and purposes in this life. I walk through this life for a purpose. I wake up every day for a purpose. And every day I say, 'Here I am. Send me.' "
I ADMIRE BUNNY GREENHOUSE WHO IS AN ARMY WHISTLEBLOWER
With 3 master degrees, 60 year-old Bunnatine "Bunny" Greenhouse works for the U.S. Army Corps of Engineers. She is responsible for awarding billions upon billions in taxpayers' money to private companies hired to resurrect war-torn Iraq and to feed, clothe, shelter and do the laundry of American troops stationed there. Bunny believes in doing the right thing and because of this, she is on the verge of loosing her job. Why? Because Bunny asks questions like:
Why is Halliburton — a giant Texas firm that holds more than 50 percent of all rebuilding efforts in Iraq — getting billions in contracts without competitive bidding?
Do the durations of those contracts make sense?
Have there been violations of federal laws regulating how the government can spend its money?

Her husband, a retired Army officer, watches what is happening to her and tries to bite his lip. "Bunny has a lot of faith. She really believes that someone will stand up and say, 'This is wrong.' But I don't think a person exists like that in the Department of Defense." MAY THE LIES BE EXPOSED AND THE TRUTH REVEALED I PRAY IN JESUS NAME!
Read article:
Army Whistleblower Draws Fire