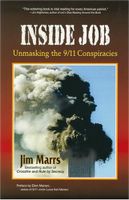 Book: Inside Job by Jim Marrs
THE 9/11 TRAGEDY: OFFICIAL STORY... OR INSIDE JOB?
Were the horrific events of September 11, 2001 truly an inside job? Jim Marrs makes a compelling case that 9/11 marks the intersection of several conspiracies at once, each based on overlapping political agendas. Support for his thesis comes from this sampling of the many disturbing anomalies cited by Marrs:
• Standard air defense mechanisms systematically failed, simultaneously.
• Interceptor jets were scrambled too late, too slowly, and from the wrong locations.
• President Bush proceeded with a "photo op" long after he knew we were under attack.
• Fires could not have caused the free-fall collapse of the World Trade Center towers.
• The collapse of Building 7 in the complex was later admitted to be a demolition.
• Vital physical evidence was either removed or has never been released to investigators.
• Key officials claimed warnings never came, despite massive evidence to the contrary.
MAY THE LIES BE EXPOSED AND THE TRUTH BE REVEALED IN JESUS NAME.