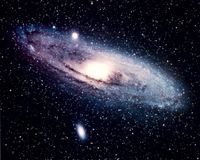 IN THE BEGINNING GOD
created the heaven and the earth. And the earth was without form, and void; and darkness was upon the face of the deep. And the Spirit of God moved upon the face of the waters. And God said, "Let there be light: and there was light." In today's devotion by
Oswald Chambers
, he says: Do you have anything to hide from God? If you do, then let God search you with His light. If there is sin in your life, don't just admit it - confess it. Are you willing to obey your Lord and Master, whatever the humiliation to your right to yourself may be? Never disregard a conviction that the Holy Spirit brings to you. If it is important enough for the Spirit of God to bring it to your mind, it is the very thing He is detecting in you. You were looking for some big thing to give up, while God is telling you of some tiny thing that must go. But behind that tiny thing lies the stronghold of obstinacy, and you say, "I will not give up my right to myself" - the very thing that God intends you to give up if you are to be a disciple of Jesus Christ. (read
more
) COME, SPRIT OF GOD, AND CONVICT ME OF SIN. MAY I BE QUICK TO CONFESS AND REPENT AS I TRUST JESUS TO FORGIVE ME AND WASH ME CLEAN BY HIS BLOOD.
DEUTSCH
AM ANFANG SCHUF GOTT
die Himmel und die Erde. Und die Erde war wüst und leer, und Finsternis war über der Tiefe; und der Geist Gottes schwebte über den Wassern. Und Gott sprach: "Es werde Licht!" Und es wurde Licht. In der heutigen Andacht von
Oswald Chambers
sagt er: Mußt du irgendetwas vor Gott verstecken? Wenn du das mußt, dann lasse Gott dich mit seinem Licht durchleuchten. Wenn Sünde in deinem Leben ist, gestehe sie nicht nur - bekenne sie. Bist du bereit, deinem Herrn und Meister zu gehorchen, was auch immer die Erniedrigung deines Selbst-Rechtes sein könnte? Missachte nie eine Überführung, die der Heilige Geist dir bringt. Wenn es für den Geist Gottes wichtig genug ist, es in deinen Verstand zu bringen, dann ist es das wichtige Ding, das Er in dir erkennt. Du hast nach etwas großem geschaut, um es aufzugeben, während Gott dir von einem winzigen Ding erzählt, das gehen muß. Aber hinter diesem winzigen Ding liegt die Festung der Eigensinnigkeit, und du sagst: "Ich will nicht mein Selbst-Recht aufgeben" - dieses wichtige Ding, von dem Gott will, daß du es aufgibst, wenn du ein Jünger Jesu Christi bist. (lies
mehr
(auf englisch)) KOMM, HEILIGER GEIST, UND ÜBERFÜHRE MICH VON SÜNDE. MÖGE ICH SCHNELL SEIN, ZU BEKENNEN UND UMZUKEHREN, SO WIE ICH JESUS VERTRAUE, DAß ER MIR VERGIBT UND MICH DURCH SEIN BLUT REINWÄSCHT.