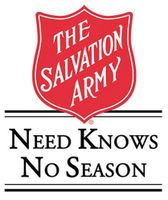 Today I helped at the local Salvation Army to make sack lunches for hurricane victims who are now in Pensacola looking for help. I talked to one family who told me that their house is now under 27 feet of water and they are staying in a trailer with several relatives. Before I left, I asked if I could pray for them and we all held hands and did just that. Gas here is now over $3 a gallon and I read that in Atlanta it is now $6 a gallon! May the Lord have mercy on each of us in Jesus name.
Psalm 28:7
says, "The LORD is my strength and my shield; my heart trusted in him, and I am helped: therefore my heart greatly rejoiceth; and with my song will I praise him."
DEUTSCH
Die Heilsarmee - Nöte kennen keine Saison
Heute half ich in der örtlichen Heilsarmee Essenspakete für Hurrikanopfer zu machen, die jetzt in Pensacola sind und Hilfe suchen. Ich sprach mit einer Familie, die mir erzählte, daß ihr Haus jetzt unter 8 Metern Wasser begraben ist und daß sie mit mehreren Verwandten in einem Wohnwagen wohnen. Bevor ich ging fragte ich, ob ich für sie beten dürfte und wir hielten uns an den Händen und taten genau das. Das Benzin hier ist jetzt bei 65 Cent pro Liter und ich habe gelesen, daß es in Atlanta jetzt 1,30 pro Liter ist! Möge der Herr mit uns allen Erbarmen haben in Jesu Namen. Psalm 28,7 sagt: "Der HERR ist meine Stärke und mein Schild; auf ihn hat mein Herz vertraut, und mir ist geholfen worden; daher frohlockt mein Herz, und ich will ihn preisen mit meinem Lied."