THE WAR WITH NO RULES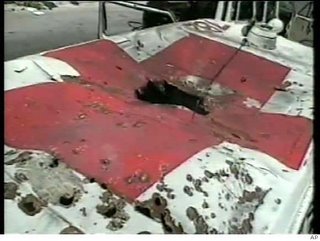 This is one of the ambulances in Lebanon bombed on purpose by Israel.
PLEASE America, you must watch the video,
Fog of War
, which is a shocking documentary on the tragedy of Lebanon's war which our president is supporting. Hear Lebanese doctors and civillians speak out against the terrorism they are facing from Israel like Chemical Weapons, Cluster Bombs, and Massacres.
The more I learn, the more I am ashamed to be an American.
Dear God, please stop this war, stop our president, and forgive us of our sin.

Read more here:
S T O P . D E S T R O Y I N G . L E B A N O N