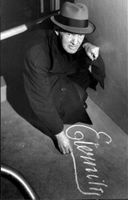 Arthur Staces writing with chalk the word, "Eternity"
ETERNITY
Today, Sue Rinaldi shared with us about Arthur. In 1932, Jesus Christ changed Arthur Staces' life from a broken alcholic after hearing the following message preached by evangelist John Ridley: "Eternity? What a remarkable, uplifting, glorious word because there is only one eternity. Oh, that I could shout and sound eternity all over the streets of Sydney. You have to meet eternity. Where will you spend eternity?" Arthur walked out of the church with the words ringing through his brain. He was seized to write the word. "I had a piece of chalk in my pocket and I bent down right there and wrote it." He admitted that he could hardly even write his own name legibly but was amazed what came from that piece of chalk—in a hand worthy of a professional calligrapher—the word that changed his life. And for 35 years until he died in 1967, 50 times a day he would write the word, "Eternity" all over the streets of Sydney, Australia. And now I ask you... where will you spend eternity?
DEUTSCH
Arthur Staces schreibt mit Kreide das Wort "Ewigkeit"
EWIGKEIT
Heute erzählte uns Sue Rinaldi über Arthur. 1932 veränderte Jesus Christus das Leben von Arthur Staces, einem zerbrochenen Alkoholiker, nachdem er die folgende Botschaft, die der Evangelist John Ridley predigte, hörte: "Ewigkeit? Was für ein bemerkenswertes, erhebendes, herrliches Wort, denn es gibt nur eine Ewigkeit. Oh könnte ich rufen und die Ewigkeit überall in den Strassen von Sydney erklingen lassen. Ihr müßt der Ewigkeit begegnen. Wo wirst du die Ewigkeit verbringen?"Arthur ging aus der Kirche hinaus und die Worte tönten durch sein Gehirn. Er wurde davon ergriffen, das Wort zu schreiben. "Ich hatte ein Stück Kreide in meiner Tasche und bückte mich genau da hinunter und schrieb es." Er bekannte, daß er kaum seinen eigenen Namen deutlich lesbar schreiben konnte, aber er war erstaunt, was aus diesem Stück Kreide kam—in einer Handschrift, die einem professionellen Kalligraph würdig war—das Wort, das sein Leben veränderte. Und 35 Jahre lang, bis er 1967 starb, schrieb er 50 mal am Tag überall auf den Strassen Sydneys, Australien, das Wort "Ewigkeit". Und nun frage ich Dich... wo wirst Du die Ewigkeit verbringen?