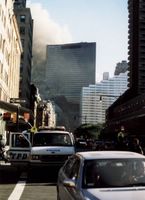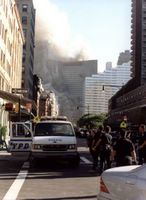 1) composite showing the size of a Boeing 757 that was supposed to have hit the Pentagon; 2 & 3) collapsing WTC-7 building (47 floors) which was NOT hit by any plane but only fire on a couple of floors
(click photos to enlarge)

SEPT 11, 2001 - WHY STILL SO MANY QUESTIONS???
The more you investigate, the more questions arise regarding 911. Was this tragic event an inside job? Why? Was it to create panic and pass laws leading to a police state? What really happened?? Check out this brief flash presentation:
http://www.pentagonstrike.co.uk/pentagon.swf
. May the lies be exposed and the truth come forth, in Jesus name!
LINKS:
http://911research.wtc7.net/
http://davesweb.cnchost.com/nwsltr69.html
http://www.wanttoknow.info/
DEUTSCH
1) Das zusammengesetzte Bild zeigt die Größe einer
Boeing 757
, die angeblich das Pentagon getroffen haben soll; 2 & 3) das zusammenfallende
WTC-7
-Gebäude (47 Stockwerke), das NICHT von einem Flugzeug getroffen wurde, sondern nur auf ein paar Stockwerken brannte
(klick auf die Photos, um sie zu vergrößern)
11.SEPTEMBER 2001 - WARUM IMMER NOCH SO VIELE FRAGEN???
Je mehr du nachforscht, desto mehr Fragen bezüglich dem 11.September kommen auf. War dieses tragische Ereignis ein Insider Job? Warum? Um Panik zu schaffen und Gesetze zu erlassen, die zu einem Polizeistaat führen? Was ist wirklich passiert?? Schau dir diese kurze Flash-Präsentation an:
http://www.pentagonstrike.co.uk/pentagon.
swf
. Mögen die Lügen aufgedeckt werden und die Wahrheit hervor kommen, in Jesu Namen!
LINKS (englisch):
http://911research.wtc7.net
http://davesweb.cnchost.com/nwsltr69.html
http://www.wanttoknow.info/