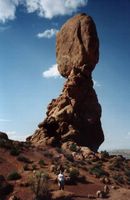 JESUS IS MY ROCK AND HE ROLLS MY BLUES AWAY!
Last night at the Holy Place, the Lord reminded me of this wonderful passage in Matthew 11: "Come to me, all of you who are weary and carry heavy burdens, and I will give you rest. Take my yoke upon you. Let me teach you, because I am humble and gentle, and you will find rest for your souls. For my yoke fits perfectly, and the burden I give you is light." As His disciples, we have chosen to be yoked/connected to Jesus. This is a total blessing when we obey Him. However, when we try to go a different way, the yoke becomes a burden. Today Oswald Chambers in "
My Utmost for His Highest
" speaks on "
What To Do When Your Burden Is Overwhelming
". Ozzy says we need to cast our burden on the Lord (Psalm 55:22) and recognize the difference between burdens that are right for us to bear and burdens that are wrong. We should never bear the burdens of sin or doubt, for example. However, there are some burdens placed on us by God which He does not intend to lift off. The Lord wants us to roll them back on Him and literally "cast our burden" on Him. Mr. Chambers continues, "If we set out to serve God and do His work but get out of touch with Him, the sense of responsibility we feel will be overwhelming and defeating. But if we will only roll back on God the burdens He has placed on us, He will take away that immense feeling of responsibility, replacing it with an awareness and understanding of Himself and His presence. Many servants set out to serve God with great courage and with the right motives. But with no intimate fellowship with Jesus Christ, they are soon defeated. They do not know what to do with their burden, and it produces weariness in their lives." We need to commit to God whatever burden He has placed on us, then we will see that our burden is lightened by the sense of companionship with Jesus, the Rock on which we stand forever!
DEUTSCH
JESUS IST MEIN FELS UND ER ROLLT MEINE MELANCHOLIE WEG!
Gestern abend im "Holy Place" erinnerte mich der Herr an diese wunderbare Passage in Matthäus 11: "Kommt her zu mir, alle ihr Mühseligen und Beladenen, und ich werde euch Ruhe geben. Nehmt auf euch mein Joch, und lernt von mir, denn ich bin sanftmütig und von Herzen demütig, und ihr werdet Ruhe finden für eure Seelen; denn mein Joch ist sanft, und meine Last ist leicht." Als Seine Jünger haben wir es erwählt, mit Jesus verbunden/unterjocht zu sein. Das ist ein totaler Segen, wenn wir Ihm gehorchen. Wenn wir aber versuchen, einen anderen Weg zu gehen, wird das Joch zu einer Last. Heute redet Oswald Chambers in "
Mein Äußerstes für Sein Höchstes
(englisch)" über "
Was Tun, Wenn Deine Last Dich Überwältigt
". Ozzy sagt, daß wir unsere Lasten auf den Herrn werfen (Psalm 55,23) und den Unterschied zwischen Lasten, die für uns richtig sind, sie zu tragen, und Lasten, die falsch sind, erkennen müssen. Wir sollen zum Beispiel nie die Lasten von Sünde und Zweifel tragen. Es gibt jedoch ein paar Lasten, die uns von Gott auferlegt sind, bei denen er nicht die Absicht hat, sie uns abzunehmen. Der Herr möchte, daß wir sie auf Ihn zurückrollen und wortwörtlich "unsere Lasten auf Ihn werfen". Herr Chambers fährt fort: "Wenn wir uns auf den Weg machen, Gott zu dienen und Seine Arbeit zu tun, aber aus der Berührung mit Ihm weggehen, wird das Gefühl der Verantwortung uns überwältigen und niederschlagen. Aber wenn wir die Lasten, die Gott auf uns gelegt hat, einfach auf Ihn zurückrollen, wird Er das gewaltige Gefühl der Verantwortlichkeit wegnehmen und es mit einem Bewusstsein und Verständnis Seiner selbst und Seiner Gegenwart ersetzen. Viele Diener machen sich auf den Weg, um Gott mit großem Mut und den richtigen Motiven zu dienen. Aber ohne intime Gemeinschaft mit Jesus Christus, werden sie bald besiegt. Sie wissen nicht, was sie mit ihrer Last tun sollen und das produziert Müdigkeit in ihren Leben." Wir müssen uns Gott anvertrauen, welche Last auch immer er auf uns gelegt hat, dann werden wir sehen, daß unsere Last durch das Gefühl der Gemeinschaft mit Jesus, dem Felsen auf dem wir für immer stehen, leicht wird!