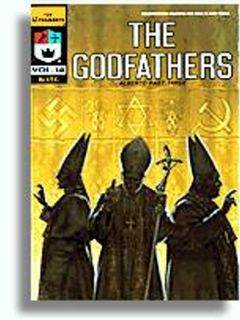 Read online

GOOD NEWS

"Am I therefore become your enemy, because I tell you the truth?"
Gal. 4:16

What does the new German pope believe? What does the Roman Catholic religion teach? Where in the Bible does it speak of purgatory, praying to Mary, doing good works will get us into heaven, or any of the many other traditions practiced and promoted by this religion? Anyone who has read the Bible knows it doesn't say any of this. Last night we heard the amazing story from our Polish friend who was raised in Roman Catholicism but left it after she became born-again. After asking Jesus to forgive her of her sins and turning her life over to Him, joy filled her heart and she no longer feared death! The Bible says in
Titus 3:5
that "it is not by works of righteousness which we have done, but according to his mercy he saved us, by the washing of regeneration, and renewing of the Holy Ghost". You see, no one is good enough to get into heaven on their own. Only through a personal relationship with Jesus Christ can we have eternal life. God is holy but our sin separates us from Him, so out of His wonderful love for us, He sent His one and only Son, Jesus, to die for us. The Bible says that Jesus, who never sinned, took upon his body all of our sin when he was nailed to the cross. He died but three days later he rose from the dead! Jesus is not only alive today but He is coming back again. Are you ready? He is coming for His bride - those of us who believe in Him and look for His return.
Romans 10:9
says, "That if you confess with your mouth the Lord Jesus, and believe in your heart that God has raised him from the dead, you shall be saved." This, my friend, is
GOOD NEWS!
He which testifies these things says, Surely I come quickly. Amen. Even so, come, Lord Jesus.
DEUTSCH
Lies online
GUTE NACHRICHTEN"Bin ich also euer Feind geworden, weil ich euch die Wahrheit sage?"
Gal. 4,16
Was glaubt der neue deutsche Papst? Was lehrt die römisch katholische Religion? Wo in der Bibel ist die Rede von Fegefeuer, Beten zu Maria, daß gute Taten uns in den Himmel bringen oder von irgendeiner anderen, der vielen Traditionen, die von dieser Religion praktiziert und gefördert werden? Jeder, der die Bibel gelesen hat weiß, daß von nichts davon die Rede ist. Gestern abend hörten wir die erstaunliche Geschichte unserer polnischen Freundin, die im römischen Katholizismus aufgezogen wurde, aber austrat, nachdem sie von neuem geboren wurde. Nachdem sie Jesus gebeten hatte, ihr ihre Sünden zu vergeben und Ihm ihr Leben gegeben hatte, erfüllte Freude ihr Herz und sie fürchtete den Tod nicht mehr länger! Die Bibel sagt in Titus 3,5 daß "er uns nicht um der Werke der Gerechtigkeit willen, die wir getan hatten, errettete, sondern nach seiner Barmherzigkeit - durch das Bad der Wiedergeburt und Erneuerung im Heiligen Geist". Du siehst, keiner ist gut genug, alleine in den Himmel zu kommen. Nur durch eine persönliche Beziehung mit Jesus Christus können wir ewiges Leben haben. Gott ist heilig, aber unsere Sünde trennt uns von Ihm, so sandte er aus Seiner wunderbaren Liebe für uns Seinen einzigen Sohn, Jesus, daß Er für uns starb. Die Bibel sagt, daß Jesus, der nie sündigte, all unsere Sünde auf seinen Leib nahm, als er ans Kreuz genagelt wurde. Er starb, aber drei Tage später, stand er von den Toten auf! Jesus lebt nicht nur heute, Er kommt auch wieder. Bist du bereit? Er kommt für Seine Braut - diejenigen von uns, die an Ihn glauben und auf Seine Wiederkunft warten. Römer 10,9 sagt: "Denn wenn du mit deinem Munde bekennst, dass Jesus der Herr ist, und in deinem Herzen glaubst, dass ihn Gott von den Toten auferweckt hat, so wirst du gerettet." Dies, mein Freund sind
GUTE NACHRICHTEN! Es spricht, der dies bezeugt: Ja, ich komme bald. - Amen, ja, komm, Herr Jesus!